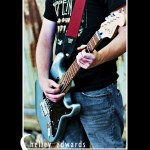 Shame on me – boy have I been slow to update my blog. It's ok though – I've been so busy wrapping up the 2010 Senior season. Over the next few days – I'll post the graduates!!!
I had soooooooooooo much fun at this session with Billy. He brought his BASS and we toured his hometown city. We got some GREAT shots and the mosquitos ate us alive!!! Next time I go on a photoshoot – I'm bringing some OFF.  One this is for certain – I enjoyed listening to Billy "slap the bass" – he would get so lost into his music – I don't think he remembered I was there.
I had so much fun Billy – thanks for choosing Shelley Edwards Photography!!!